Welcome to the Colorado Springs Society for Human Resource Management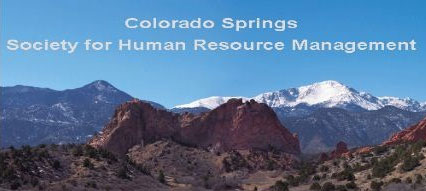 We are an affiliate of the Society for Human Resource Management. Whether you are new to the HR field or have many years of experience, we are a local starting point for networking, information, professional development and continued support of excellence in Human Resources.
We welcome your use of this site as a resource, and encourage you to check back frequently for updated information. We also encourage your involvement and suggestions about all of our activities, on the web and off.
We look forward to seeing you at an upcoming meeting or event!
Follow us on LinkedIn: https://www.linkedin.com/company/csshrm/
---
SHRM, the Society for Human Resource Management, creates better workplaces where employers and employees thrive together. As the voice of all things work, workers and the workplace, SHRM is the foremost expert, convener and thought leader on issues impacting today's evolving workplaces. With 300,000+ HR and business executive members in 165 countries, SHRM impacts the lives of more than 115 million workers and families globally. Learn more at SHRM.org and on Twitter @SHRM
Upcoming Events
See All >
September 5, 2019 -

8:00am

to

1:30pm

Location:

Denver Federal Center: Remington Arms Room Building 41 111 Kipling Street Lakewood, CO 80226

September 26, 2019 -

2:00pm

to

4:00pm

Location:

Focus on the Family Welcome Center 8685 Explorer Drive Colorado Springs, CO 80920

The Rocky Mountain Total Rewards Association (RMTRA) www.RMTRA.org is pleased to partner with the Colorado Springs Society for Human Resource Management (CSSHRM) www.CSSHRM.org to present a free compensation presentation:

...

October 2, 2019

to

October 4, 2019

Location:

Keystone Conference Center

October 17, 2019 -

3:00pm

to

5:00pm

Location:

21C Library 3:00 - Check-in and Registration 3:15 - Networking 3:30 - Presentation 4:30 - Q&A 4:50 - Announcements 5:00 - Meeting Close

According to an ICF report, seventy-seven percent of human resources practitioners and leaders report that their organization is in a state of constant change, with priorities and strategies continuously shifting. This kind of environment requires more employee engagement than ever before in order to remain productive during the...