Welcome to the Colorado Springs Society for Human Resource Management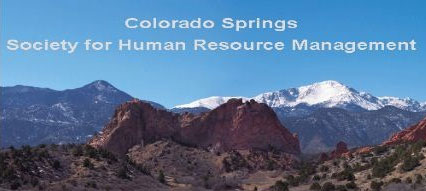 We are an affiliate of the Society for Human Resource Management. Whether you are new to the HR field or have many years of experience, we are a local starting point for networking, information, professional development and continued support of excellence in Human Resources.
We welcome your use of this site as a resource, and encourage you to check back frequently for updated information. We also encourage your involvement and suggestions about all of our activities, on the web and off.
We look forward to seeing you at an upcoming meeting or event!
Follow us on LinkedIn: https://www.linkedin.com/company/csshrm/
Upcoming Events
See All >
February 28, 2019 -

10:00am

to

10:45am

Diversity & Inclusion Best Practices

Thursday, February 28, 2019 | 10:00 AM MT to 10:45 AM MT

...

March 13, 2019 -

3:00pm

to

5:00pm

The Emerging Workforce® Study (EWS) by Spherion Staffing annually examines the issues and trends impacting the American workplace. Conducted by Research Now, it is the only nationally representative survey of both employers and employees. Since 1996, Spherion has interviewed more than 200,000 workers and hundreds of companies to...

April 9, 2019 -

8:00am

to

4:00pm

Location:

Colorado State Capitol & Colorado State Services Building 200 E Colfax Ave Denver, CO 80203

7th Annual Day at the Capitol

 

Tuesday, April 9, 2019

Take advantage of Early Bird Pricing
$...

April 9, 2019 -

3:00pm

to

5:00pm

Organizations in the top tier of employee engagement outperform their peers by 147% in earnings per share and have a 90% better growth trend than their competition. However, only 30% of U.S. workers are engaged, which means the vast majority sleepwalk through the day giving you zero discretionary effort. How do you inspire employees...